New cultivation trays for Phalaenova
Smart pots or trays can help growers improve their processes. Orchid nursery Phalaenova from Brielle also experiences this. Their old cultivation vases needed to be replaced. That is why we have developed new 6-fold cultivation trays together with Phalaenova. The reusable trays are transparent and suitable for pots with a diameter of 12 cm.
Higher quality through smart design
Orchids tend to grow their roots into the air as well. These so-called aerial roots can easily become entangled with the aerial roots of the plant next to them during the cultivation process. The depth of the new tray greatly limits the entanglement of the aerial roots. The leaves of the orchids are also not easily damaged by this. The result is a more beautiful and better quality plant with a higher yield.
Increased efficiency
With the old cultivation vases, the Phalaenova employees were forced to pick up the plants one by one. Picking up and moving the plants has become a lot more efficient with these 6-fold trays. This saves the grower a lot of time and the plants are better protected against damage.
Fully recyclable
When developing new products, we want to make the products circular as much as possible. That is why most of the products developed and produced by us are made from recycled material. In this case, it was decided to produce the trays from recyclable material. If the trays no longer suffice after many uses, they can be processed in our own recycling facility into plastic chips, which are then melted down into new plastic granules for the injection molding process. Read more about our recycling process here.
The advantages of the new trays at a glance:
Stick process is faster
Less damage to the leaves
Less root entanglement
Higher quality plants
Picking up 6 plants instead of 1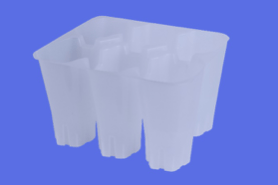 Do you also want to improve your cultivation process or make it more efficient? We develop and produce pots, trays and associated plastic horticultural products to customer requirements. Feel free to contact one of our representatives and experience for yourself what is possible. We are ready for you!